Definition: Derived from whole milk or skim milk, contains sweetener, stabilizer, emulsifier, and flavoring ingredient.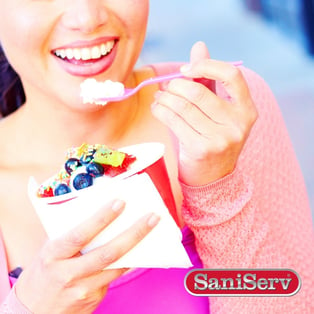 Frozen yogurt is another dessert product which holds appeal in many areas, especially for the health and fitness-conscious.
Compared to many other soft serve and ice cream products, frozen yogurt supplies 12% reduction in calories and 70% less fat. Yet yogurt contains essential dairy vitamins and minerals.
Frozen yogurt is derived from real, cultured yogurt. The flavor is light and refreshing. With the variety of yogurt flavors available today, it's a popular and versatile menu addition. Fruit flavors and chunks of natural ingredients enhance the nutritional value and sales appeal of the product.
For a tempting way to attract the very health-conscious, it's hard to top frozen yogurt.
Introduced in the late 70's as a healthy alternative to soft-serve ice cream products. At that time the product had a sour taste, and consumer acceptance was low.
Frozen yogurt became popular in the mid 80's and peaked in the early 90's. During that 6-7 year period, we saw the expansion of the yogurt shop concepts such as TCBY, ICBIY, Freshens, Colombo, Penguins, Zacks and Bresler's.
Today's new frozen yogurt craze combines fresh yogurt culture with pre-gel, skim milk and either sugar or honey. Green Teas and a variety of other fruit flavors may also be incorporated to expand product offerings.
Frozen Yogurt Essentials
Health Benefits

Contains active cultures
Aids in digestive process
Traditionally lower in fat, cholesterol and calories

Dispensing Temperatures

17° — 19° Degrees F
Equipment should be set to the customers preference upon initial start-up.

Frozen Mix

Requires 3-4 days refrigerated thawing prior to use
Usually 1-year frozen shelf life

Liquid Mix

Local distribution
Must be thoroughly blended to avoid clumping

Packaging

2 - 2 1/2 gallon bags
1 gallon cartons
1/2 gallon cartons
Note: Installation agents must call customer prior to installation to schedule and arrange CTS. A part of that needs to be understanding what product is being used, and making certain that the customer has product in house, and more importantly, thawed and ready to use.