Definition: Soft serve contains less than 10% butter fat. Emulsifiers and stabilizers are added to maintain the stability and consistency of the frozen product. It also allows the mix to maintain overrun.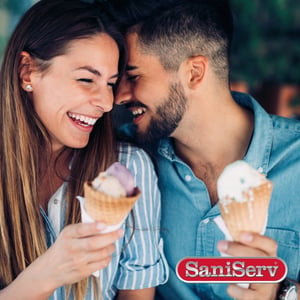 What could be more American than ice cream? The ice cream social...the ice cream parlor...the final touch on top of apple pie. History reveals ice cream as one of the genuine American favorites.
Just as significantly, ice cream has progressed with the time. Ice cream, as people have always known it, is still as popular as ever. But booming trends such as premium and super premium ice cream (known as "gourmet") have created new demands. Whether at the beach, ball park, or the dinner table, ice cream is still an undisputed favorite. The gourmet ice creams are penetrating new market niches — such as satisfying up-scale professionals during lunch, and parlor—raiding ice cream fans at night. Between regular and gourmet varieties, ice cream has all the basis covered.
Premium and super premium ice creams feature a thick, "homemade" consistency, often highlighted by generous chunks of nuts, fruits and candies.
Other popular types of gourmet desserts, such as gelato and sorbet, will be discussed in the following pages.
In "traditional" ice cream, vanilla is still the overwhelming favorite as it composes 50% of all sales. This shows that while some positive changes are occurring in ice cream, other good things never seem to change.
NOTE: It is important to understand the difference between volumetric measures and measuring by weight. For example, when we think of a gallon of liquid, we normally think of it in relation to 128 fluid ounces. Yet the same gallon of ice cream mix weighs 144 ounces.
Soft Serve Essentials
No active cultures
Less than 10% butter fat content (typically 3% to 8%)

Quality of texture and flavor increases with butter fat content

Depending upon product fat content, product may separate over time
Dispensing temperature

18° - 20° degrees F
Equipment should be set to the customers preference upon initial start-up

Frozen Mix

Requires 3-4 days refrigerated thawing prior to use
Usually 1-year frozen shelf life

Liquid Mix

Fresh mix is available from your local dairy or food supplier
Shelf stable mix, stored at room temperature, 90 day shelf life

Powdered Mix

Can use dry storage versus refrigerated
Should be mixed 12 to 24 hours in advance

Packaging Availability

2 -2 1/2 gallon bags
1 gallon cartons
1/2 gallon cartons
To effectively control portions and cost, ice cream is discussed in terms of weight. For example, 1 gallon of mix weighs 144 ounces, but when incorporating air at (100% overrun), the finished product actually makes 2 gallons by volume. But each gallon only weighs 72 ounces.
Note: Installation agents must call customer prior to installation to schedule and arrange CTS. A part of that needs to be understanding what product is being used, and making certain that the customer has product in house, and more importantly, thawed and ready to use.